in
All Posts
,
Blogs
,
Customer Journey Mapping Articles
,
Uncategorized
tagged
This is an apt analogy for the voluntary sector, grappling with their own journey. How can charity mystery shopping help?
It may be fashionable to talk about 'The Supporter Journey' but charities need to understand what this really means as they wrestle challenges such as negative press coverage and post-GDPR compliance. And with the vast range of communication channels, especially with such marketing-savvy audiences, it is now harder to navigate than ever before.
For 18 months JGAs Secret Giver Scheme has tracked and analysed the Supporter Journeys of over 40 different UK charities. The benchmark findings have been mixed to say the least.
Mystery shopping findings
As you would expect, there are some big discrepancies:
Frequency: Across the year, a wildlife charity engaged 68 times compared to 9 times from a disability charity
Content: Over 90% of contact from a major cancer charity was feedback. This compared to 22% from a smaller breast cancer charity.
Channels: Use of email: from a low of 46% to a high of 81%
Over the past eighteen months a few critical themes have emerged.
1. First response
The first gift response and follow-up sets a tone that can be hard to change. First impressions last just as much for charities as they do for any other relationship. Interest is high at the outset, but so are expectations. Communications need to be carefully planned to make the most of this opportunity.
2. Conveyor belt
Our Charity Mystery Shopping showed that too many times we've seen our Secret Givers get dropped into a communications programme that is simply the next thing on the conveyor belt. They receive no acknowledgement that these are new donors. Nor are they recognised as having lots of enthusiasm but little knowledge yet. Time and time again, the follow up that new donors receive is not based on insight – it appears to be entirely random!
For example, first engagements after giving a cash donation include:
"please run in the London marathon"
"join us on a march"
"buy some merchandise"
or even "can you volunteer for us"
Messages are NOT based on what our Giver has actually done, NOR what they told the charity about their interests.
3. Multiple (disconnected) messages
Where our Givers are engaged and committed, we now see challenges in how charities manage these ever-more complex journeys. If a Giver donates, campaigns, takes part in surveys, participates or volunteers in events; the sheer volume of interactions becomes overwhelming very quickly.
What makes it worse is the lack of integration. We have Givers receiving multiple messages on the same day about different things. But there is no reference or acknowledgement from one communication to another. Supporters see the charity as one organisation. Yet this disconnected approach simply leaves them feeling that the left hand doesn't know what the right is doing.
4. The power of the 'thank you'
Thanking and appreciation is still a major driver of satisfaction. Often an inspiring 'thank you' will be one of the most memorable engagements our Givers have. Thus, it achieves a very high recall versus other interactions. Yet we still see many more examples of poor thanking than good. Examples include:
– predictable and formulaic copy
– duplication (same thank you for different gifts)
– lengthy delays before the 'thank you' is received.
After the high of helping, these leave our Givers feeling deflated and uninspired. Surely this is the last thing you want at the end of a transaction.
Travelling a thousand miles is never easy, nor it seems are Supporter Journeys. Many have yet to take their first real step. But the few that have a good few strides behind them are much closer towards their destination. Namely, to achieve genuine donor-centric programmes which bring equal benefits to the charity and the supporter.
ABOUT THE SECRET GIVER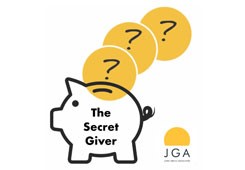 The Secret Giver Scheme is the voluntary sector's most comprehensive charity mystery shopping and competitor review programme. Members can discover exactly what supporters think of their communications. They can improve their supporter journey to increase engagement and loyalty. They'll gain insights into competitor activity and effectiveness. Members can also discover new approaches to compliance and GDPR, and own a complete overview of fundraising best practices.

In July, this Charity Mystery Shopping Scheme was awarded 'Highly Commended' by the Institute of Fundraising Insight in Fundraising Awards 2018 for Best Use of Insight to Improve your Donor Experience for our work with the Alzheimer's Society.
What the judges said: 'This was a really solid piece of work. Most charities carry out charity mystery shopping but this was looking at the same cohort over time which is great and produced strong insights that have actually led to change. The use of qualitative research has given them insights they wouldn't have otherwise gained and it was great to see the benchmarking element, which can be used in the long term.'

Contact John Grain: